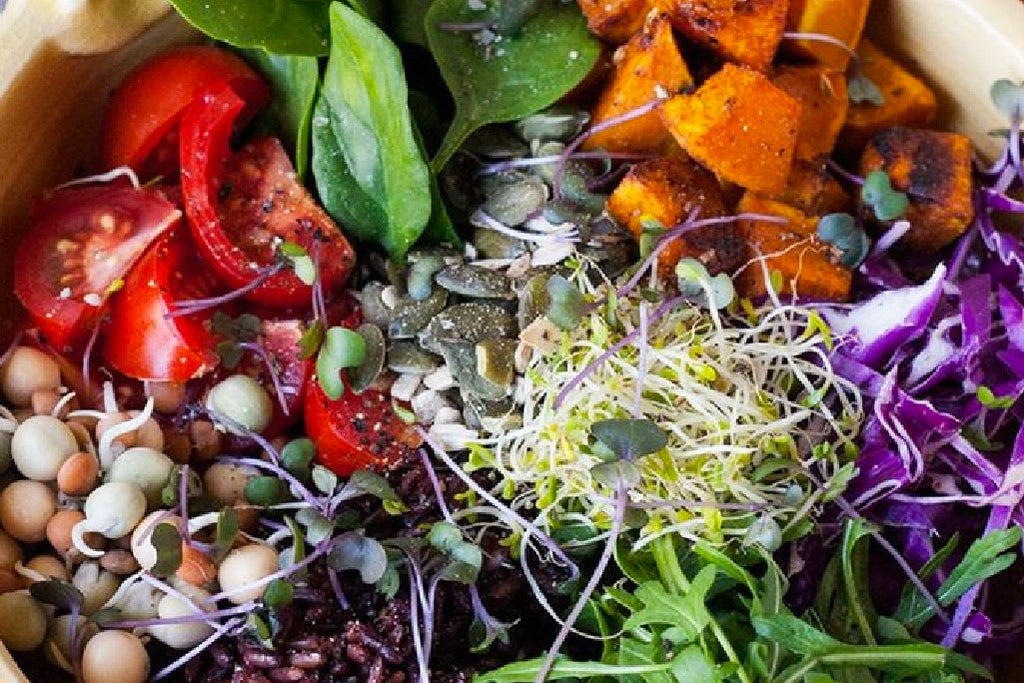 Makes two bowls
Gorgeous green dressing:
1 avocado
1/2 cup spinach leaves
1/2 basil leaves
Juice of one lemon
1 tablespoon of Bestow Beauty Oil
1 tablespoon of apple cider vinegar
Salt and pepper to taste
Blend all together with a stick blender, sweeten a little to taste (optional) with honey, maple, agave syrup or a couple of drops of stevia.
Goddess bowl ingredients:
1/2 buttercup pumpkin
1 tablespoon of olive oil
1 teaspoon of cumin powder
1 teaspoon of fennel seeds
1/2 teaspoon of cinnamon
1 cup of black rice, cooked according to packet directions
1 cup of spinach leaves
1 cup of rocket
1/2 cup of fresh sprouts
1/4 red cabbage, shredded
2 tomatoes, cut in wedges
1/2 cup of pumpkin seeds and sunflower seeds (toasted if preferred)
Microgreens (optional)
Salt and pepper
Method:
Preheat oven to 180 degrees celsius.
Cut your pumpkin into wedges and remove seeds, pulp and skin. Chop into cubes, toss with the olive oil, cumin, cinnamon, fennel and season with salt and pepper. Place in a baking dish lined with baking paper and bake until soft (15 to 20 mins). While that is cooking make up your two goddess bowls with all the other ingredients. Add the pumpkin when it is cooked, scatter with microgreens (optional), serve with your gorgeous green dressing.