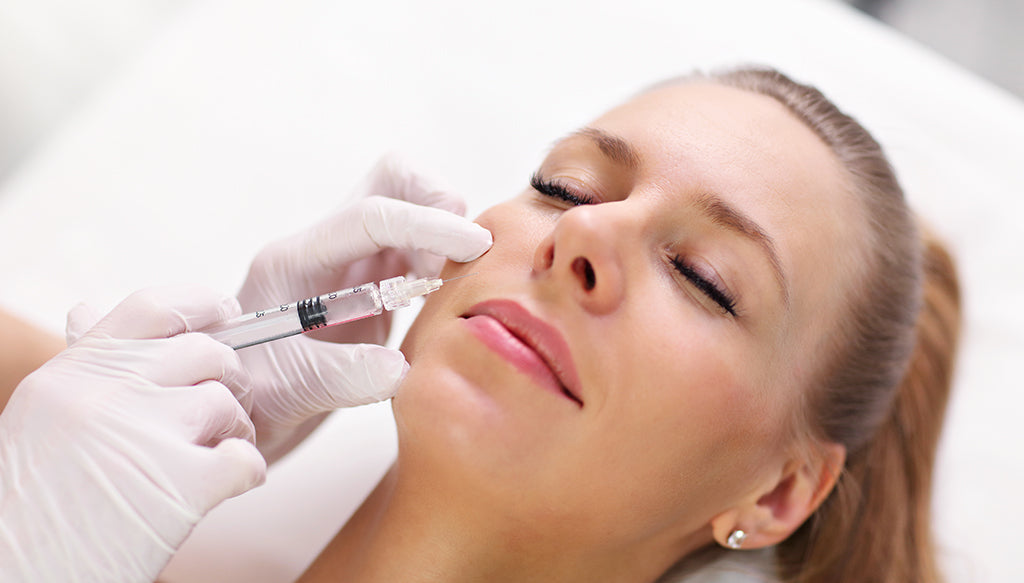 Let's talk Botox®. Gone are the days when Botox® was a little secret that no one talked about - left in the realm of the frozen-faced movie star! Nowadays it's one of our most popular treatments with people of all ages using it as a preventative as well as a treatment for fine lines and wrinkles. With so many clients asking about cosmetic injectables we thought we'd pop together a blog to answer your most common questions.
So, here's all you need to know about Botox®....
What is Botox®?
Botox® is the brand name for a mild purified toxin injected beneath the skin that relaxes muscles of the face, reducing and sometimes eliminating lines and wrinkles.
Botox® is most commonly used to target wrinkles and fine lines around the mouth, at the corners of the eyes, and across the forehead. Treatment is temporary, but Botox® works for 3-6 months and can be repeated as desired.
Is Botox® Safe?
The safety profile of Botox® has been well documented for over 20 years. The injections are highly targeted and work by blocking the nerve signals to targeted muscles. Botox® is used by millions of people worldwide, many as an alternative to invasive plastic surgery procedures such as a face or eye lifts.
Botox® is made from a neurotoxin called botulinum that temporarily relaxes the muscle. The effects of Botox® last for around 3-6 months and the muscles return to their original strength when not re-treated. But with any cosmetic injectable, Botox® treatment should always be undertaken by a qualified professional to ensure you get the correct application in the right area.
All our Cosmetic Injectable treatments are performed by one of our highly-skilled Registered Nurses who have been specifically trained in Cometic Injectables under the guidance of a registered Medical Doctor.
Is Botox® Safe for Everyone?
Although most people are good candidates for wrinkle reduction treatments, if you are pregnant, taking certain medications, or have specific conditions, some treatments may not be right for you.
How is Botox® Used?
Botox® is commonly used cosmetically to treat the upper face. Lines form in three main areas around the face:
the 'crow's feet' lines around the eyes
the horizontal forehead lines
the vertical lines between the eyebrows (glabella)
These are the lines that become more pronounced as we age. Treating the muscles around these main lines with Botox prevents them from working so hard. When the muscles become relaxed this reduces the appearance of the lines. 
Did you know that Botox® can also be used to treat excessive sweating and teeth grinding?
Can Botox® be Used as a Preventative?
Overtime face lines can turn into severe static lines. Static lines are when the lines become apparent even when no expression is made. You can prevent this by using Botox® before the lines become static. Think of it as a crease in a pair of suit trousers - once a firm crease is made, the material will mark and hold the crease forevermore. 
Are There any Side-Effects to Botox®?
When carried out correctly by an experienced professional, the side effects are minimal if at all. Very occasionally you might experience some redness around the injection site or some light bruising – but this should not last long.
Extremely rare side effects can include difficulty swallowing and breathing - in which case immediate medical attention would be sought.
Will Botox® Make my Face Look Frozen? 
We pride ourselves on creating a beautiful natural look – gone are the days of the frozen face! At All About You we take the time to assess your skin and face shape and custom design a treatment plan for you. That way you will get the gorgeous natural look you desire. 
Where do I get Botox®?
At All About You! We start with a 30minute consultation to assess your needs. From here we develop a custom treatment plan to suit your face shape and so you look and feel your best. All our treatments are performed by one of our highly-skilled Registered Nurses who have been specifically trained in Cometic Injectables under the guidance of a registered Medical Doctor.
How much does Botox® Treatment Cost?
Check out the Cosmetic Injectables page for our pricing and book in to see us for more detail. 
We hope this helps you understand Botox® a little better. book in for a consultation.
Love Tracy and the team at All About You xo