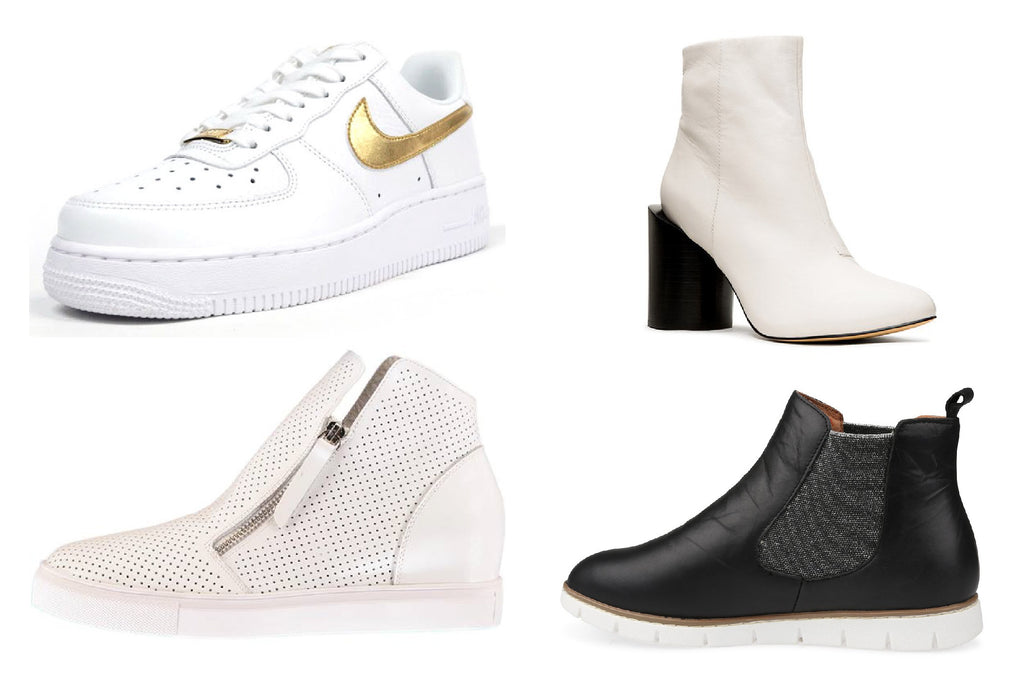 Ask any Mum or dog owner and they'll tell you, white shoes are to be avoided at all costs!  But, the white shoe trend is alive and well and there are things you can do to make your shoes last the distance.
First lets take a look at the latest options available.
Mi Piaci have come out with these fantastic ankle boots with a great short length to really showcase the most flattering part of the ankle.
The perforated trend is still coming through strong this season. These little numbers by Minx from Craze Boutique have a hidden wedge to help the vertically challenged without compromising comfort.  With a quick wipe you can go anywhere, why not dress up your sideline look at the kids winter sport.
For the ultimate in metallic fun these flat boots from Shoe Connection under their own brand Utopia Luxe showcase a crinkled leather.
Glam streetwear is turned on it's head with these Nike Air Force 1 low shoes. They come standard with gold accents.  They are fully customisable on their website for that personalised touch.  Metallic silver or bright crimson anyone?
So how do you keep white shoes clean? Waproo cosmic white from Shoe Connection will clean up white shoes like new. 
For any fabric shoes use a toothbrush and vinegar or 1 part bleach to 5 parts water.  For a quick fix a soapy chux cloth will work wonders.