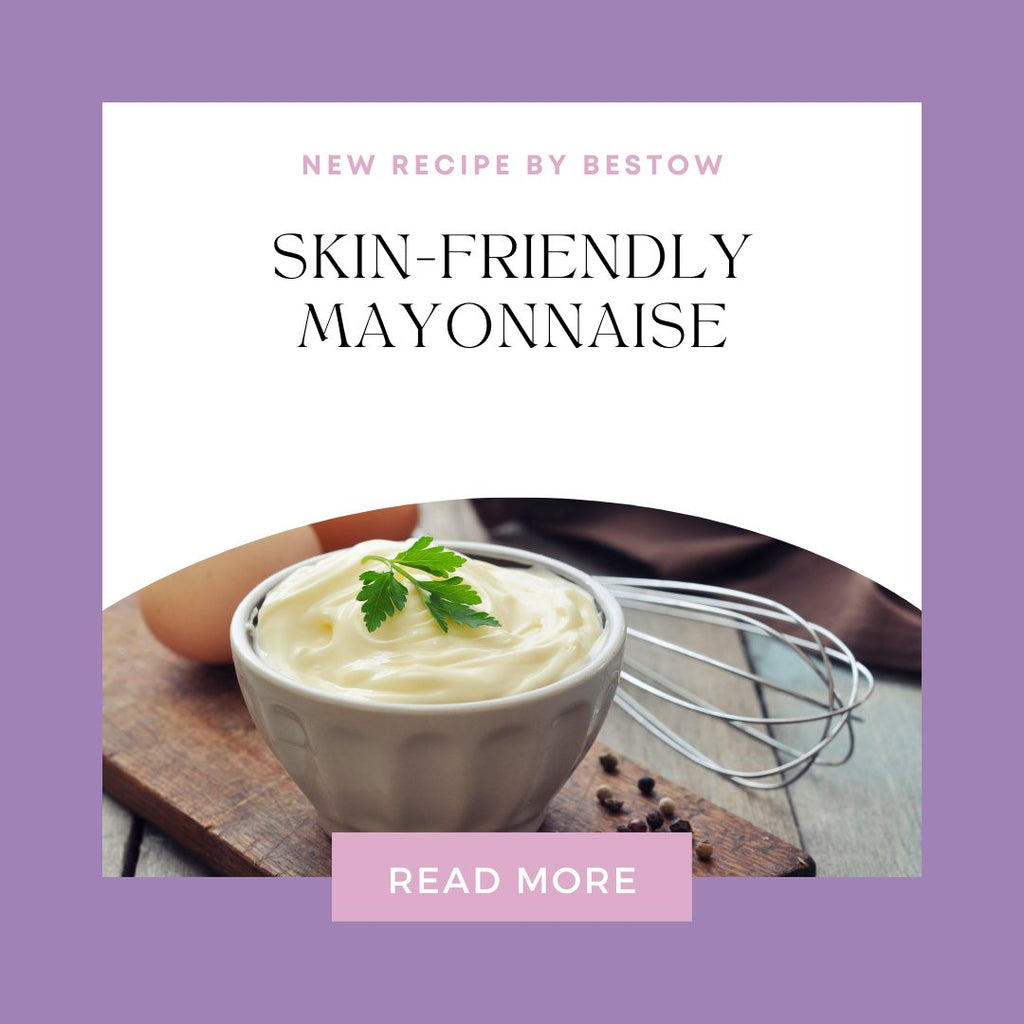 Introducing our Skin-Nourishing Mayonnaise: a delightful blend of flavors that not only tantalise your taste buds but also cater to your skin's well-being. This special mayo recipe is thoughtfully crafted to align with dietary preferences, making it gluten-free, dairy-free, and soy-free – a perfect harmony of health-conscious choices.

Packed with skin-loving ingredients, our Skin-Nourishing Mayonnaise combines the richness of egg yolks, the zing of mustard powder, and the tangy notes of lemon juice and apple cider vinegar. As you savour each spoonful, you're not just treating your palate; you're treating your skin to a dose of nourishment.

Infused with the goodness of olive oil and Bestow Beauty Oil, this mayo isn't just about flavour – it's about embracing a holistic approach to wellness. These oils, renowned for their beneficial properties, join forces to create a luscious, creamy emulsion that's as good for your skin as it is for your taste buds.

Whip up a batch of our Skin-Nourishing Mayonnaise and elevate your culinary creations while giving your skin a little extra love. This versatile condiment is here to make your meals more enjoyable and your well-being a top priority. So, let's dive into this delightful recipe that celebrates both your taste for good food and your desire for radiant skin.
Skin-Nourishing Mayonnaise Recipe
(gluten-free, dairy-free, soy-free)

Ingredients:

- 2 egg yolks
- ½ teaspoon mustard powder
- 1 tablespoon lemon juice
- 1 tablespoon apple cider vinegar
- ¼ cup olive oil
- ¼ cup Bestow Beauty Oil
- Himalayan salt or sea salt and freshly ground pepper, to taste

Instructions:

1. In a blender, combine egg yolks, mustard powder, lemon juice, vinegar, and a pinch of salt and pepper. Blend until well combined.

2. With the blender running, very gradually add the olive oil and Bestow Beauty Oil to the mixture. Keep blending until the mixture thickens and forms a smooth emulsion.

3. Taste and adjust the seasoning with more salt and pepper if needed.

4. Transfer the mayonnaise to a sealed jar and store it in the refrigerator. It will stay fresh for up to 2 weeks.

Enjoy this nourishing mayonnaise as a delicious and skin-loving addition to your meals!