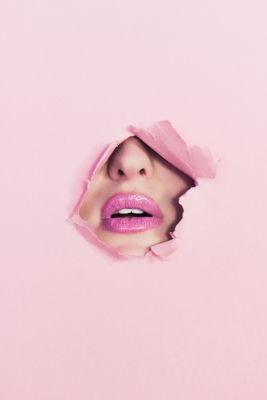 Everyone has a common goal of achieving flawless, extraordinary, no-blemishes-or-pimples-in-sight skin. It is one of those highly desirable results that everyone wants to achieve but only a few actually accomplish. Although everyone's skin journey is unique, the interest in skincare typically peaks during puberty. At All About You we care about great skin so we have created an easy Four Step Guide that you can follow to set yourself on the journey to achieving the flawless skin you have always dreamed about!
My journey began during high school. My T-zone was covered with pimples and I was determined to find a cure. Since I had combination skin, it was difficult to find products that satisfied my skin needs.  After years of  testing new products, and reading skincare articles, I finally developed a regime that works for me. Using this routine, I became one of the few who actually accomplished radiant skin. Therefore, here are the major key (steps) to clear, flawless skin:
 AT ALL ABOUT YOU - we adopt a Cleans, Correct, Hydrate & Protect approach to achieving flawless skin!
 Step 1 - CLEANS: Using a daily cleanser is essential for radiant skin because it constantly removes the dirt and bacteria from your pores. Wash your face with one of the recommended cleansers twice a day. If your skin is sensitive, use a mild cleanser. Although ALL products work tremendously, keep in mind that the Deep Clean & AHA & BHA Cleanser 's are more powerful than the Mild Clean Cleanser. Use AHA & BHA  if you have extremely oily skin and use Deep Clean if your skin is leaning towards the combination side.
 Step 2 – CORRECT: Adopting a facial serum seems intimidating at first with its hefty price tag. Then we are reminded of all the skincare benefits from clearing blemishes to smoothing wrinkles, and feel compelled to give it a try.
What is a serum you ask.  Good question. Serums are skin care products that are designed to deliver high concentrations of specific active ingredients to the skin. There are many different types of serums on the market that perform different jobs, ranging from hydration to skin brightening
Most often, serums are clear, gel-based or liquid, and they tend to be less thick than a moisturiser. They're typically applied before moisturisers to help lock in moisture.
"Often, a serum is able to hydrate more effectively than even the heaviest creams. The molecules are able to truly penetrate the skin and hydrate on the deepest level, while the heavier creams more so sit on those top layers. Hydrating serums do not necessarily replace your moisturiser, but can boost the hydrating effects of your moisturiser.
Different serums target different concerns but we suggest starting with Apect Dr A, B & C Serums for the ultimate skin management system, containing 3 key products designed to work synergistically to address common skin concerns.
 Step 3 – HYDRATE: The basic function of moisturisers is to help treat your skin when it's dry and prevent it from drying out again. Moisturisers do this by holding water in the stratum corneum, the outermost layer of the skin. But they have other functions as well. They can help protect your skin from the environment.
Applying moisturiser creates a barrier on your skin that keeps oils from escaping and harmful outside elements from causing dryness or irritation.
There are many moisturisers on the market that are formulated to treat many different skin types, including normal, dry, oily and sensitive skin. People with normal skin need a light moisturiser, whereas people with dry skin may require heavier lotions to lock in moisture. For those with oily skin, there are oil-free, noncomedogenic moisturisers, which won't clog pores. And people with sensitive skin should look for moisturizers that are fragrance-free and contain few ingredients.
 However, avoid moisturising your face with the lotion you use on your body -- this could cause skin irritation or breakouts. For example, the oil-based lotion you use on your knees and elbows could clog pores on delicate facial skin and cause acne.
Step 4 – PROTECT: We're constantly reminded to wear SPF, but why is sunscreen important? Sunscreen protects us from the sun's harmful ultraviolet rays: UVA and UVB. UVB rays are responsible for sunburn. It's very easy to see — and feel — the effects of UVB rays. UVA rays, on the other hand, penetrate deeper into the skin. These rays can lead to long-term effects like wrinkling, premature aging and other skin damage. Both types of ultraviolet rays can cause skin cancer.
So how does sunblock work? Sunblock creates a shield to prevent UVA and UVB rays from reaching the skin and keep it safe from the harmful effects of UV radiation. Most products do this by absorbing, scattering or reflecting the light
If you're looking for everyday UV protection, take a look at our Aspect Dr Hydra Shield. This sunscreen helps protect your complexion from damaging UV rays with a lightweight super-hydrating moisturiser with zinc oxide benefits. Hydra-Shield is packed with potent skin protecting antioxidants, skin hydrators and nourishing botanical oils and best of all its cruelty free.
 So here you have it! The Ultimate, Four Step Guide To Great Skin and as an extra bonus, we have added an in depth chart to help you decide what areas of concern you would like to treat and how. If in doubt keep it simple and don't hesitate to drop us a line to ask any questions.
 ASPECT DR PRODUCT & SKIN SOLUTIONS CHART
Skin Concern

Cleanse

Correct

Hydrate

Protect

Photo Aging/

Aging

Deep Clean Facial Cleaner

AM: Active C

        Optiboost

 

PM: Multi B

        Exfol A

Hyaluronic

Oil Free Moisturiser

Resveratrol

Hydra Shield

Even Up

Sunforgettable

Hydrating SPF 50

Sensitive / Reactive Skin

Mild Cleanser

AM: Active C

        Hyaluronic

        Optiboost

 

PM: Active C

        Hyaluronic &

         Redless

         Exfol A (after

         4 weeeks)

       

Hyaluronic

Oil Free Moisturiser

Resveratrol

Hydra Shield

Sunforgettable

 

 

Pigmentation

Deep Clean Facial

Cleanser

AM: Complete      

        Pigment

        Plus

       Active C

       

 

PM: Complete      

        Pigment

        Plus

       Exfol A

 

Hyaluronic

Oil Free Moisturiser

Resveratrol

Envirostat SPF50

Oily Congested/ Acne

Deep Clean Facial

Cleanser

AHA/ BHA Cleanser

AM: Problem Skin

       Multi B

 

PM: BHA   

        Treatment

         Gel

         Exfol A

         Multi B

Hyaluronic

Oil Free

Moisturiser

Envirostat SPF50
For a more advance skin assessment please contact our clinic at skincare@allaboutyou.co.nz